THE TIME WALK

Performative walk // 16th of July 2021 // Part of the project 'Walking Landscapes'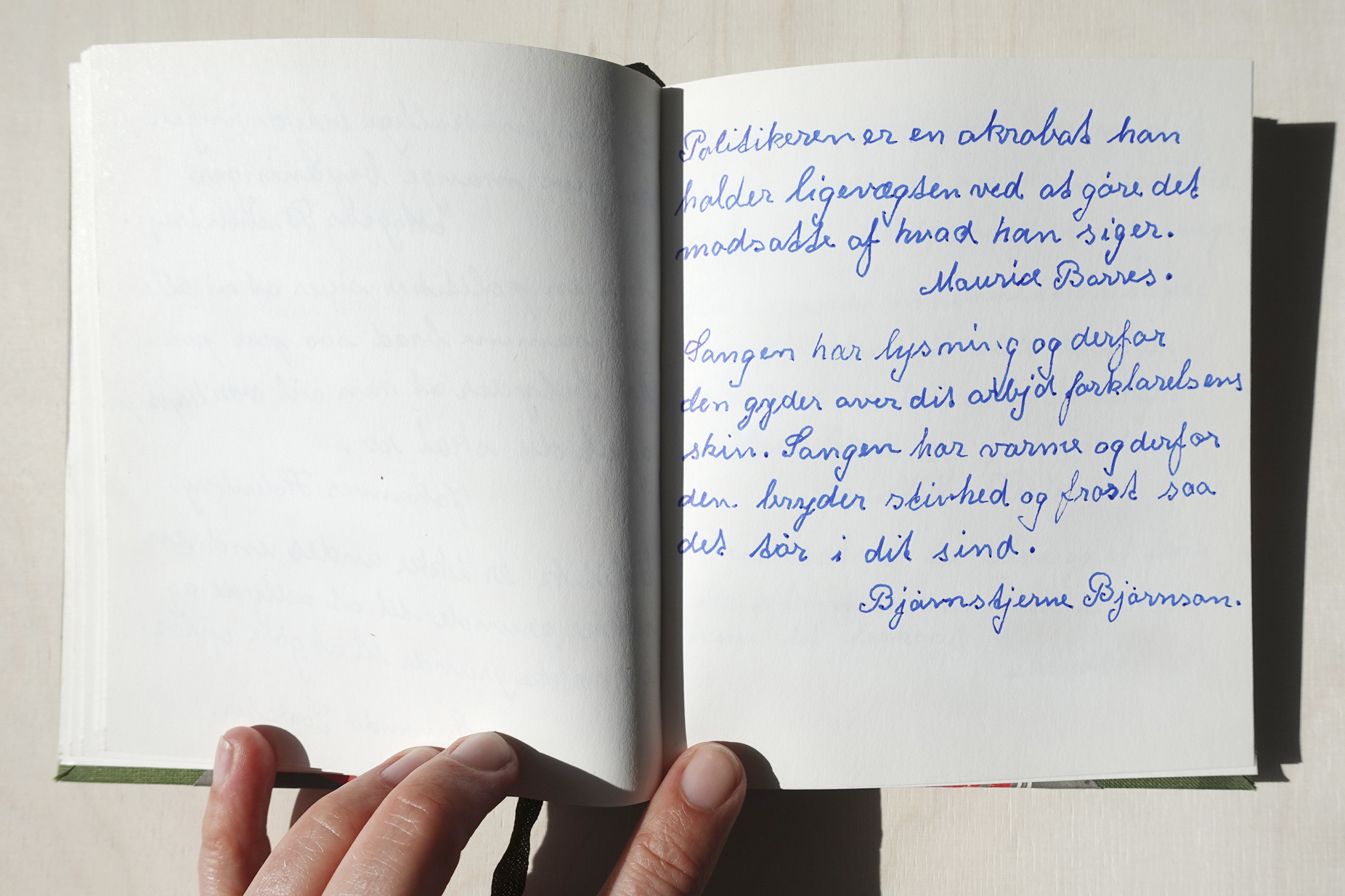 My granddad was one of my favourite people and one of the most intelligent human beings I have known. He never had a formal education and through his life, he worked as a milk man, a pig farmer and a sweeping man. When I knew him, he was retired and often sat in his chair reading Kierkegaard, Platon or other philosophical writers. He collected quotes and shortly before he died, he returned to me a notebook I had made for him, with all the quotes he had collected on small scraps of paper over the years. Besides reading my granddad went for a daily walk around the small town where he and my grandmother lived, and he reckoned, like the philosophers, he was reading, that walking was good for both body and mind.
On Friday the 16th of July I, as a part of the artistic walking project 'Walking Landscapes', departed from my grandparent's old house in Laven and went for a 12-hour long walk with my granddad's quote-book and my camera. Every hour I read a quote and with that in mind made an interaction with the landscape to create a photographic image. I could be followed live every hour on 'Walking Landscapes' Facebook page.

The walk is one of 140 walks being performed through landscapes around Denmark in summer and autumn of 2021 and is arranged by @metropoliskbh and for the walks around Silkeborg in collaboration with @silkeborgbad
- Lotte Fløe Christensen
About the walk
by art historian Iben From
Art Centre Silkeborg Bad
(in Danish)
Extract from text about all the Silkeborg walks:
Walking Landscapes Silkeborg
Landskabet som nøgle til identitet og historie

Billedkunstner Lotte Christensen formidlede selve landskabet i området vest for stationsbyen Laven. Karaktertrækkene holdt hun frem gennem nøje tilrettelagte billedvinkler, der samtidig gav anledning til kultur- og kunsthistoriske ekskurser og præsentation af tidligere tiders filosoffers udsagn om natur. På den måde fik hun blandet andet rettet fokus henimod, at der er eksistentielle og kulturhistoriske dimensioner indlejret i landskabet, og ikke mindst i hvordan mennesket både har forstået og forstår landskab og natur. Hun pegede også både på sit eget kunstprodukt som netop en konstruktion og på en kunsthistorisk dimension ved gennem en tydelig repetitiv fotograferingsproces at vise, hvorledes afbildning af et landskab er en bevidst tilrettelæggelse. Samtidig kunne hun spejle et element fra sin egen familiehistorie ind i udsagnet i endnu en understregning af, at naturen er størst og længst – og det enkelte menneske eller den enkelte tidsæra blot forbipasserende.
Stills from the live streams. An edited version of the walk can be seen here:
Time Walk
BLANK PAGES
Performative actions / photographs
2018
Stillness, emptiness, silence: in the excess of today's society of imagery, the pause, the gap, the nothing between things is increasingly important.


---
Martina Weinhart in Seeing Nothing – Experiences of Radical Reduction in Image and Space since the 1960s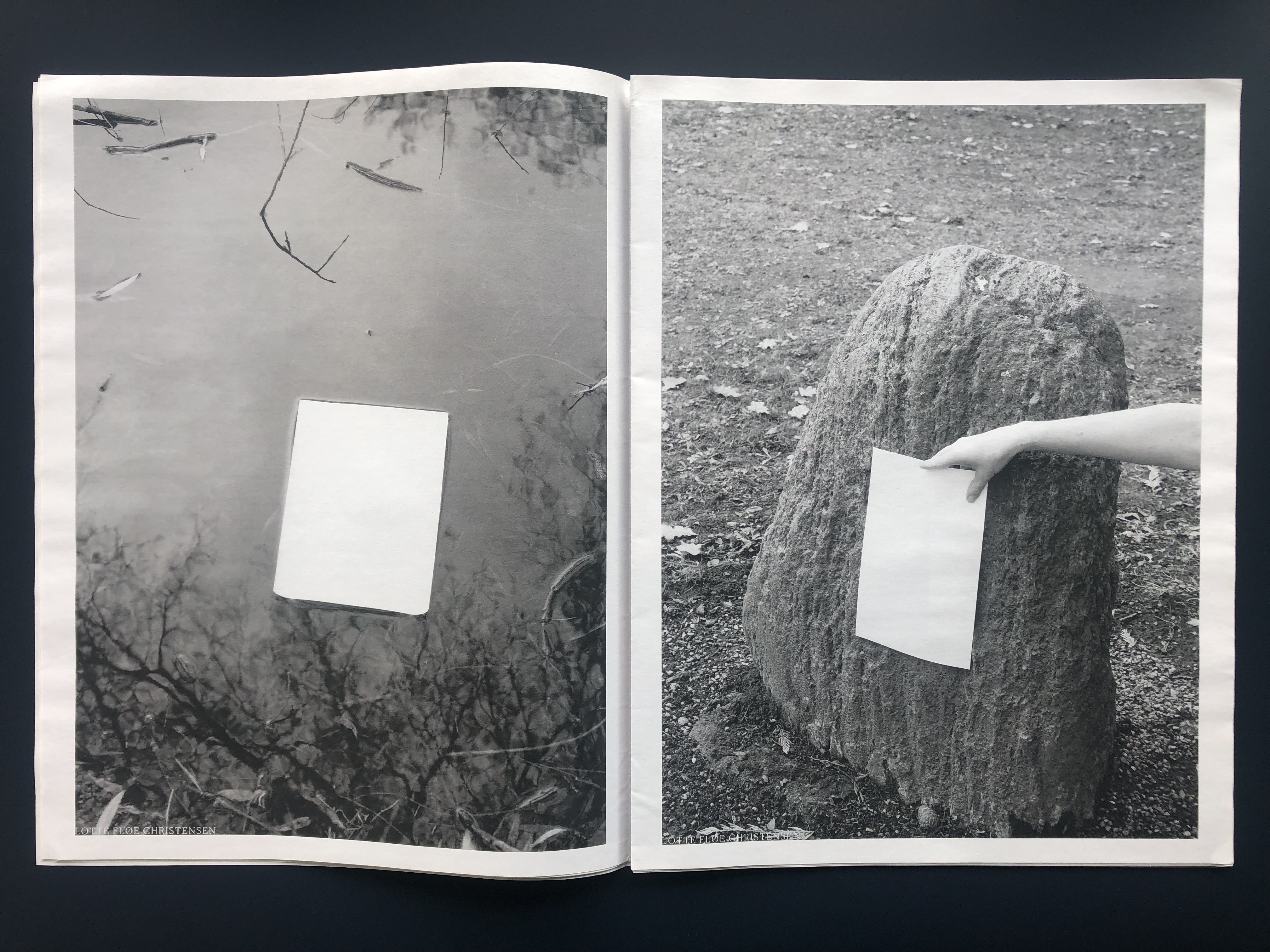 Paper
vol. 02, Valentine Editions, Bristol, UK, 2021
One might posit that these 'blank' pages (I prefer the word 'blank' to 'empty' to describe them) have a relationship to Heideggerian 'danger' – the risk that we might be unwilling to acknowledge that blankness is a claim made on us.
---
Aron Vinegar in Ed Ruscha, Heidegger and Deadpan Photography i Photography after Conceptual Art
Screenshot from the online exhibition
Paper
by Valentine Editions
INTERFERENCES
Series of 5 collages
Part of the publication 'The Year'.



Året, København 2018 (The Year, Copenhagen 2018) is a monthly photobook publication featuring contemporary works by Copenhagen-based photographers engaged in portraying the city of Copenhagen during 2018. Every month 5-10 photographers spend the 20 first days of the month photographing the city, consequently putting together a photobook featuring the results. Presenting different artists every month, Året will gather throughout the year a growing and diverse collection of perspectives and practices.
While Copenhagen has been named the most liveable city in the world several times, and we have seen many beautiful vistas of the Danish capital, the reality is always far more complex. This diary representing varied and personal points of view will offer readers an uncensored and unfiltered portrait of the city: "This is our Copenhagen".
Året is published by Danish publisher Blankt Papir Press and every month is a limited edition run of 100 copies only.
-
www.copenhagenyear.com
Constructs monograph
Design: LevievanderMeer
ISBN: 9789053308837
17x22 cm
Hardcover
Schilt Publishing
64 pages with 29 photos in full colour
2017
Stick, paper, platform. The hand, body and gaze touch on their surroundings. Often aimlessly, occasionally purposefully. They can end anywhere, for example in images which, in the art of Lotte Fløe Christensen, unfold between classical landscape photography and a curious, exploratory and sometimes even sculptural practice. The images are both works in their own right and a documentation of the artist's activities in the landscape – a form of absent-minded wandering interrupted by the kind of fragile constructions and signs we create alone in the woods. They are therefore related, yet very different, in expressive form. The images operate on different scales, from the micro scale of inconspicuous stick structures, to them monumental macro scale of landscapes. And between them: the body looking at and acting in the world, because there is a constant and highly physical doing at play here. Somebody (a woman) does something somewhere: looks, crawls, struggles with a sheet of flapping paper, constructs precarious platforms, unstable scaffolding for… for what? Is it a game?

Extract from essay in the book by art historian Lars Kiel Bertelsen

Constructs book shown at:

Noua Pop Up, Arctic Arts Festival, Harstad (NO) , 2018
Athens Photobook festival, Benaki Museum (GR), 2018
Felifa, photobook festival, Buenos Aires, (ARG), 2018
J-Book Show, The Glucksman Gallery, Cork (IE) , 2018

View Towers
Series of 5 images